MG Maxus 9 Electric MPV Launched In Thailand, In the modern world where technology is taking over everything, the automobile sector is availing this race, and everyone whether it is a car manufacturer or bike they are launching its electric segments to grip the audience better than before. Now, the British automotive marque has brought another amazing segment called MG Maxus 9 Electric MPV, and if you are keen to know more about this then read here till the end. Although the car is yet to debut in the Indian market it has been launched in Thailand and is likely to launch in the global market soon.
However, there is no doubt that the global car market is now getting better from one other electric segment that has brought more competition in the market, and in the midst of this ongoing competition MG Motors is bringing another electric car called MG Maxus 9 Electric MPV and saying this won't be bad that it is going to create a havoc in the market. Despite being launched in Thailand, the car is creating a buzz in the Indian market as well which shows people's excitement towards the segment. Also, as the pictures are showing then saying this would not be bad that it is going to make you feel like a boss.
MG Maxus 9 EV Specs & Features
Well, those who are well in touch with automobile news and trends, must be in the swim that Maxus is the name of the manufacturer that made the vehicle, Mifa 9. And also, MAXUS is one of several leading brands owned and manufactured by SAIC, among the world's largest EV producers. MG Motors chose the name of the manufacturer as their latest car model's name, and looking at the pictures can remind you of the same EVs made by SAIC. Before talking more on the segment and other information here are the top specs of the car that you all are going to watch.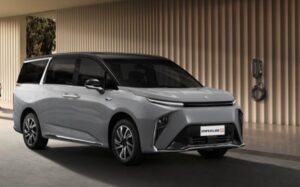 90 kWh Battery
Max Power – 245 bhp
Max Torque – 350 Nm
540 km Driving Range (Complete Charge)
Two Charging Options
Although, the Minivan like the designed car is equipped with enough amazing features to gather your attention that can be seen and checked as per the details available on the official site of MG motors. But as we mentioned that the car will get two charging type options, so we would like to tell you that in this segment you will get to see an 11 kW AC charger that takes the battery from 5%-100% in just 8.5 hours and a 120 kW DC fast charging support that makes the battery quick charge from 30%-80% in 30 minutes.
Price & Launch Date In India
As far as the launch is concerned then MG Motors launched the MG Maxus 9 in Thailand so far, where it comes in 3 different color options that are Pearl White, Black Knight, and Concrete Grey/Black Roof. Coming to the price then the car can cost you somewhere between 2.499 million Baht for the base X trim and 2.699 million Baht for the top-spec V trim, only when you buying this in Thailand. Although, according to the current exchange rates the price of the car can cost you between Rs. 60 lakh and Rs. 65 lakh (INR).
Apart from the specs if we talk about another feature of the car then here you will also get to see 19" alloy wheels with run-flat tires, ADAS suite, TPMS, driver monitoring system, electronic parking brake, 360-degree camera with high-resolution, and so on. Also, apart from the amazing features and a premium minivan design the fully electric EV MVP or Van comes with a panoramic sunroof as well which makes it more classy and premium. Stay in the loop for more updates on trending and newly launched cars and other automotive news.