Can You Drive A Vintage Car In India? If you are a true car lover then no doubt once in your life you must have thought to own an old skool car or a vintage car. However, buying a vintage car is not a cup of tea for everyone because this procedure takes certain things and needed many demands to be followed at the time of purchase. Although, money is also a concern therefore not everyone can buy such super amazing premium and old skool kind of cars and that too in India where doing such things are really prohibited.
Vintage cars are a symbol of luxury and class that have been cherished by car enthusiasts around the world. India is a country that has a rich history of vintage cars, with a plethora of antique vehicles still in existence. But, can you drive vintage cars in India? In this article, we will explore the legal requirements, costs, and important things to remember before purchasing and driving a vintage car in India.
Can You Drive Vintage Cars In India?
Well, after knowing about such super amazing and premium cars, another major thing that pops up in everyone's mind is, whether can vintage cars be driven on Indian roads or not. Well, you are also searching for the question then here you will get the answer as well, followed by which we hope you will get a clear answer if you can buy and drive those super beauties. Because just buying such cars is easy as compared to keeping them running on the roads regularly.
So, shooting your excitement down we would like to tell you that yes, vintage cars can be driven in India, but there are certain rules and regulations that must be followed. Vintage cars are classified as vehicles that are over 50 years old, and they require special registration and documentation. They cannot be used for commercial purposes, and they must pass a fitness test conducted by the Regional Transport Office (RTO) to ensure they are roadworthy.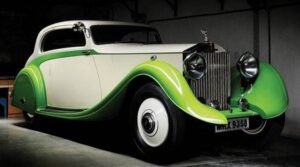 Permissions Require To Drive A Vintage Car
Here comes another important thing to keep in your mind. So, as you all know To drive a vintage car in India you also need to follow some rules. So, out of many the major thing is, if you are thinking to get a premium old car then, you must have a valid driving license and obtain a registration certificate (RC) from the RTO. The RC will indicate that the vehicle is a vintage car and must be renewed every five years. Additionally, vintage cars must have third-party insurance coverage and a valid pollution under control (PUC) certificate.
How Much Does It Cost To Own & Drive A Vintage Car In India?
The cost of owning and driving a vintage car in India varies depending on several factors, including the make and model of the vehicle, its condition, and the availability of spare parts. Vintage cars require regular maintenance and repairs, which can be expensive, and their fuel efficiency is often lower than modern cars. Additionally, the cost of insurance and registration fees for vintage cars is typically higher than for regular vehicles.
Important Things To Remember Before Buying A Vintage Car
Before purchasing a vintage car in India, there are several important things to consider. Firstly, vintage cars require regular maintenance and repairs, which can be costly and time-consuming. It is important to ensure that spare parts are available and that the vehicle is in good condition. Additionally, it is essential to verify the vehicle's ownership and documentation, including the RC and insurance papers. Lastly, it is crucial to research and understand the regulations and legal requirements for owning and driving a vintage car in India.
vintage cars are an attractive option for car enthusiasts in India, but they require special attention and care. Vintage cars can be driven in India, but they require specific documentation and legal compliance. Before purchasing a vintage car, it is essential to research the costs, maintenance requirements, and legal requirements to ensure a smooth and enjoyable driving experience.