Is Kawasaki planning to launch its first-ever electric bike? Well, here is the update you should know if you are a Kawasaki lover. So, another week another brand is launching its electric vehicle. Undoubtedly, since the year started plenty of motorcycle and car manufacturing companies are leaving no single chance to grip their market and bring even stiffer competition. Recently, the Japanese public multinational corporation manufacturer of motorcycles, Kawasaki Heavy Industries Ltd. announced bringing its new and first-ever electric bike to the market. The news has set headlines and the brand has become a hot potato as everyone is searching for the specs and features of the bike. Amid so many questions, price and the launch date are searched by people.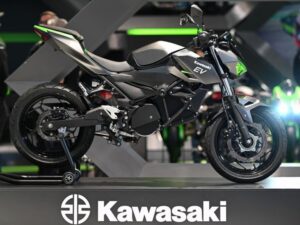 According to the reports, Kawasaki previewed its first-ever electric motorcycle yet to be launched in the global market. When talking about the beginning of it all, the new E-bike was first spotted in an event at the Suzuka circuit, reportedly. Although, the bike is still in its prototype. Kawasaki's electric bike has been previewed at the Intermot motorcycle trade fair in Cologne, Germany. There is no doubt that Kawasaki is among the bike brands that deal in luxury and speed and brand in a conference stated about its future plan where one of the spokespeople for Kawasaki said that its future plan is to bring a massive number of electric and hybrid motorcycles by the end of 2025. Well, the brand has not revealed the features and design as the bike is still under prototype but still whatever we fetched online for you is here.
Kawasaki New Electric Bike
Mr. Hiroshi Ito, the president of Kawasaki Motors in a statement said that they have planned to unveil at least 3 electric vehicles globally by the end of 2022. According to the sources, the new motorbike by Kawasaki is based on Kawasaki's Z250 naked street motorcycle which is going live on sale in the international market. Talking about the design of the bike then as the prototype says this won't be bad that makers have given it a minimalistic bodywork but with a muscular-looking fuel tank and an aggressive headlamp that gives it an even more beastly look.
Now, if we talk about the interesting fact about this bike, at first glance no one would be able to clarify that it is going to be an electric segment. Looking at the looks it is hard to say if this is going to be a fueled one or an electric one. Now, if we talk about the looks and features that we fetched so far. The electric bike gets both tire disc brakes. The machine is powered by a strong and bigger battery and electric motor that will give it equal power and torque which is close to a petrol-powered 125 cc motorcycle. Well, much information such as battery backup, the riding range, and some other features are yet to announce by the company. So, stay tuned with us to get more updates on automobile news and also to know about the features of Kawasaki's new electric bike.