Hey, car enthusiasts! if you are an SUV lover then you must have heard about Honda's newly launched Honda Pilot 2023. Undoubtedly, the most awaited model with upgraded designs and some features too, the Honda Pilot 2023 is here to make you feel over the moon. Well, along with its launch number of questions started to trend on social media such as its mileage, reliability, and so on. So, shooting your excitement down, here we are talking about the major changes that you will get to see in the new Pilot. Well, it is going to be the 4th generation of Honda Pilot, and saying this won't be bad that the developers have given it a beast look that is quite enough to blow your mind.
Now, if you are searching about, what is going to be special in Pilot this time? So, we would like to illuminate that keeping an eye on the roads and seating comfort, the latest generation of Pilot will have more comfortable seats, along with a new totally re-designed cabin and some useful storage places. As soon as the news about this SUV rolled out, it became people's first choice as everyone started to talk about it. However, it was all expected because of Honda's craze. The three-row crossover SUV is in everyone's wishlist since 2016 when it debuted in the market.
2023 Honda Pilot Specs
However, not much information is out so far about the 7-seater vehicle but still, there are some glimpses available on the internet basis on which we are telling you. So, as you all know that the Honda Pilot 2023 offers three-row seating. Ahead of this, the car gets V-6 power and 4-wheel drive which makes it 4×4. Well, according to the sources, the car is similar to Hyundai Palisade, Kia Telluride, Toyota Highlander, and Ford Explorer which come under the same class.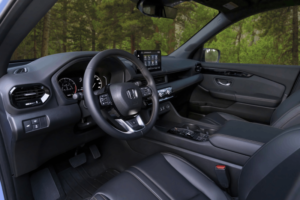 As per the trusted sources' reports, they have stated that so far they did not drive this big car but as they gave a 6.5 out of 10 stars rating it seems like the new one will get 8 out of 10 probably. However, the driving review is not available right now. In 2022 we have seen so many SUVs that have gripped the market that Kia came up with a mind-blowing response from the audience. As the new Pilot 2023 is revamped and re-tooled so saying this won't be bad that it is going to give tough competition to its Korean rivals.
Honda Pilot 2023 Features
Heated front seats
Apple CarPlay and Android AutoApple CarPlay
Wireless smartphone charging
Bose audio
The 10.2-inch digital instrument panel
Panoramic sunroof
Now, the 2023 Pilot comes in five trims that are Sport, EX-L, Trailsport, Touring, and Elite. All of the above features would be seen in these 5 trims. However, there would be some other changes that would vary as per the trim but the above features are said to be mandatory in all trims of this SUV.
However, on the internet people are searching for Honda Pilot 2023 crash test, so shooting your enthusiasm down we would like to tell you that the car has not gone for the crash test so far. But keeping safety in sight the makers of Pilot have given it several features such as automatic emergency braking, blind-spot monitors, adaptive cruise control, active lane control, and traffic-sign recognition. Well, much information such as its pricing and booking amount is yet to be out. So, stay tuned with us to catch more updates on newly launched cars and bikes.
Also, read Honda Sold 2millionith car in India on 7th November 2022