Are you looking to buy a new car, but confused about choosing the right one? Well, here we are comparing the most loved and selling SUVs from Tata. So, if you are searching about Tata Nexon Vs Tata Punch then this article is going to help you for sure because here are talking about the complete comparison of these 2 SUVs from Tata Motors. Also, we would like to tell you that here we will discuss the major things that you will go to get and see in both cars, therefore some main changes that are the same in both segments, would not be mentioned here. Scroll on to read the complete information on Tata Punch Vs Tata Nexon.
So, when it comes to talking about the design and performance then, both of the cars are from the SUV segment therefore this is normal thing that both are having a quite powerful performance. However, the car shape and design can confuse you because where Tata Nexon looks quite bigger, on the other side the Punch is similar to its name, as it doesn't look much bigger than the Nexon. Both of the cars are available in the same 1199 CC engine displacement and have 3 cylinders.
Tata Punch Vs Tata Nexon Comparison
Well, as told above both of the cars are having the same engine displacement of 1199 CC and are equipped with 3 cylinders. However, despite being equipped with the same engine setup both of the cars delivers different speed and power. Apart from this, there is also AMT transmission setup in both cars but in the top variants. Both have the same fuel type where you see the petrol option. While, the Tata Nexon gives a mileage of 17.05Kmpl, on the other side in the Punch you will see 18.8kmpl. So, as per this, we can say that mileage in Tata Punch is slightly better than Nexon. More features are given below so that you can see and make choices on your own.
Tata Nexon Key Specs
Max Power – 118.35bhp@5500rpm
Max Torque – 170Nm@1750-4000rpm
Ground Clearance – 209 MM
Boot Space – 350L
Mileage – 17.05 kmpl
3 Cylinders
1199 CC Engine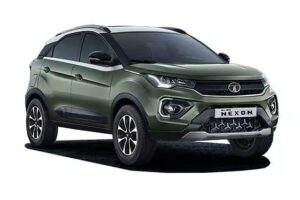 Well, saying this won't be bad as the car is having extra gear setup therefore it delivers more power as compared to Punch. Also, in this SUV you get to see ABS and the central locking system that makes it more secure and safe. In Nexon, there are only 2 airbags given that are for the driver and the pilot.
Tata Punch Key Specs
Max Power – 86.63bhp@6000rpm
Max Torque – 115Nm@3250+/-100rpm
Boot Space – 366L
Mileage  – 18.8 Kmpl
3 Cylinders
1199 CC Engine
Apart from these features in the Tata Punch, you will also get to see 2 airbags for the same driver and pilot, and when it comes to talking about the fuel tank then 37 liters of fuel tank would be there in the car. However, the length, width, and height of the car are slightly shorter than this SUV as compared to the Tata Nexon and this is something that makes it look smaller than others.
Tata Punch Vs Tata Nexon Price Compared
Heading towards the end of the article, when it comes to talking about the price of these both SUV cars from Tata then, we would like to tell you that both cars' starting price is Rs. 7.80 Lakh and goes upto Rs. 14.50 Lakh. Meanwhile, the Tata Punch's starting price is Rs. 6 Lakh and goes up to Rs. 9.52 Lakh. Interstingly, where Tata Punch is available in 26 different variants the Nexon is offered in a total of 65 variants which makes it more amazing to be in the market.
However, buying the best car is always going to be your own decision because this is you who is splurging money so you better know where to invest it. But if we talk about the sales then according to the reports, the Tata Nexon sold 15002 in April 2023. While on the other side, Tata Punch sold 10934 in April 2023. Also, Tata Punch is quite small in the terms of looks so if you are thinking to get a SUV that should be small than no doubt that Punch is going to be worthy for you. Stay tuned with us to get all the latest updates on the all trending news and updates in automobile world.