In the world of technology, innovation is a must, and continuing legacy car manufacturers have been dropping better from one another cars. Well, if we are talking about trending cars then how can we forget electric vehicles mainly cars? In today's modern era when fuel is about to extinct, automobile companies are shifting to electric vehicles and there are immense benefits of switching to petrol, now the main highlight of this is, it reduces pollution and it will save fuel too. E-vehicles come with a wide range of specifications and there are plenty of offers so that one can own an e-car.
It is always a topic of confusion between choosing the right option and that too when there is a such wide range of designs, specifications, built quality, and safety too. Well, you need not worry because here we are talking about the top 5 electric cars in India that you should have a look at if you are making mind to buy one for yourself. However, the list is based on audience ratings and also, what we found on the internet. So, be here till the end and check all 5 options and choose wisely according to your budget and demand.
1. Tata Nexon EV
Well, Tata Motors is one of the most loved car companies in India and no matter how many companies have set their foot in the market but Tata is having a separate fan base. Some love it for the built quality while some love the owner of Tata. Everyone has their own perspective and here the list goes. So, on number 1 it is Tata's Tata Nexon EV which is a completely electric car and has the same model as petrol. But here we are talking about the electric one so, here are the features that you should look at before you go and get confused.
Price – Rs 14.99 Lakh
Driving Range – 312 Km
Charging Time – 8.5 Hours
Batter Capacity – 30.2 kWh
Recharge Time – 0-80% charge in 60 minutes with a fast charger.
5 Star Safety Ratings
Now, when it comes to talking safety then there at this price range no one can beat Tata and this is something Tata is always been to the rank 1 in everyone's favorite list. Apart from built quality the range is another special point that is enough to attract your attention.
2. MG ZS EV
Now, coming to number 2 so here we have Morris Garages' ZS EV which comes with powerpack performance long-lasting battery long driving range, and some other special features that are putting four moons in its looks as well features. But as the price is high that is why it comes on the 2nd rank in the list. Although, saying this won't be bad that MG has griped the market and that too in a very less time because griping such a huge nation and the audience range and that too under this little time is not a cup of tea for everyone. MG has gained much fan following in the nation since it is launched and it is all because the brand is giving mesmerizing features in it. Here we are talking about its major features that you should know.
50.3 kWh –  Battery Capacity
8.5 to 9 hours – Charging Time
461km – Driving Range
Rs.20.88 lakh – Price
448-liter boot space
353 NM – Torque
Undoubtedly, the car is a power pack piece by the brand, launched so far and if you are having a quite big budget then going for this will make you feel like a boss on the road. It has Fast charging in 50 minutes. The pricing is something that has brought the car to the 2nd rank as it Starts from Rs.20.88 lakh.
3. Hyundai Kona Electric
Heading ahead in the list on the 3rd rank we have Hyundai's Kona electric which is again a mind-blowing segment from Hyundai. As you all know that Hyundai is among the companies that have always been in the race to be the second most car selling company therefore, Tata & Hyundai has a cutthroat competition to stand on the 2nd rank. Well, talking about the Kona electronic so it is also an expensive one after MG's ZS EV. Talking about the features of the car then here are the major ones you should have a look at.
Battery Capacity – 39.2kWh
Charging Time – Approx 6 h 10 min
Driving Range in full charge – 452km
Starting Price Rs.23.71 lakh
Now, apart from these features, there is a number of specs that will make you feel over the moon but again the price is something that can stop you to buy this because it is a bit high as compare to other cars in the market. However, Kona was the winner of the Electronic Vehicle of the Year Award at the 2019 Tech and Auto Awards. Talking about the engine power so it has torque at 395 Nm which makes it fast.
Also, Read Tata VS Hyundai, Who Is 2nd Most Selling Car Company
4. Mahindra e2oPlus
Stepping ahead in the list here we have added the e2oPlus from Mahindra. Now, what makes it special and gives a reason to buy it? So, the main thing is the price that is a nice thing and after that, you will get all the mandatory features in it. In this car, you will have a variety of colors and a trust of Mahindra. It is not hidden from anyone that Mahindra has a separate fan base like Tata and therefore people do go for Mahindra. Here are the features you can have a look at.
110 km Driving Range
6 hours charging time
4 seating capacity
Price Range – ₹ 7.48 Lakh – ₹ 11.49
10.08kWh Battery Capacity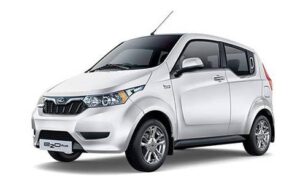 Now, if we talk about its power then the powerful battery gives it high speed that can generate maximum torque and power of 70Nm and 25bhp. According to the audience review, it came to know that the car can go 99.9km on a single full charge.
5. Tata Tigor EV
Ending the list we have Tata's Tata Tigor EV. Well, now talking about this car's specs and pricing so everything is going to make you feel over the moon because the same thing as we have Tata on the top of our list ending with the same brand. Though, there are simple reasons to go for it, not only because it belongs to Tata but also because you can see this one on your roads running commercially. Tata's Tata Tigor EV is among the most loved electric vehicles that you will see on the roads and almost every second driver is driving this one commercially. Here are the features you can check.
65 Minutes Charging Time
306 kms driving range on a full charge
5 seating capacity
Price range Rs.12.49 – 13.64 Lakh
Max Torque – 170 Nm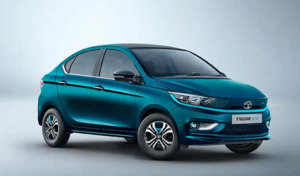 So, there are features that are stealing everyone's looks towards it and attracting them as well. Apart from this there are some other features such as Tata Tigor EV has a 316 liters boot space, and as it is a compact sedan therefore it is being loved by everyone.
So, above you read the top 5 electric cars in 2022 in India. As we told you that the list is based on features and price and also on audience ratings so if you find anything misplaced then do write it down in the comment box. Undoubtedly, electric cars are the future of the automobile industry, so what do you think about it and which one are you making mind to buy? Stay tuned with us to get more updates on the automotive industry.