Top 5 Cars In India 2022 Hey, people! Are you one of those looking for a new car to buy? or just searching for knowledge about upcoming cars in November and December 2022? Well, this year all the automobile companies introduced their new segments, while some introduced their electric cars, on the other side some announced their upgraded fueled cars. There is no doubt that by the end of the year, car manufacturers have dropped one of the mind-blowing concepts from features to mileage, and safety to design. Companies have launched better than one another models. Here we have the list of upcoming cars in November & December 2022.
Well, before we start talking about the names of all the cars that we fetched for you from the internet. We would like to tell you that the list depends on so many things such as mileage, price, ratings, safety, features, and so on. Another thing that here we are talking about is 5 fueled cars. So, if you are looking for electric cars, then we will bring them for you in the next article. Here are the 5 most loved & newly launched cars in India in 2022. This year companies have launched their electric cars, alongside the same brands have also brought their fuel cars to the market. So, below is the list, you can look at.
Top 5 Cars In India 2022
Maruti Swift
Tata Punch
Maruti Baleno
Hyundai Venue
Maruti Brezza
1. Maruti Swift (₹ 5.91 Lakh)
Well, on rank 1 we have Maruti Suzuki's Swift which has an amazing audience grip in the Indian Market. If you are on a road then you must see 8 swifts out of 10. Swift is considered India's most loved hatchback that comes with very premium looks and features. Although an honest review about the safety is, the car is fully packed with features but the outer body of the car is not as tough as it should be. Well, as the brand is selling company-fitted CNG kit in its Swift, Maruti has launched CNG Baleno Too, which is a direct competitor of the Toyota Glanza.
Mileage –  22.38 to 30.9 kmpl
Petrol & CNG
Engine – 1197 cc
Max Power – 89 bhp @ 6000 rpm
Max Torque – 113 Nm @ 4400 rpm
Price
Talking about the pricing of the car, so, the Maruti swift comes in 11 trims where the starting price is ₹ 5.91 Lakh and ends at ₹ 8.84 Lakh with ZXi Plus AMT Dual Tone. From manual to automatic and petrol and factory-fitted CNG kit. The car is available to make you feel over the moon. The great thing about this car is, it would cost you ₹ 4424 per service in a year. But if you are thinking about safety so Swift won't be a good option because it gets only 2-star ratings out of 5.
2. Tata Punch (₹ 5.93 Lakhs)
Heading ahead in the list we have Tata's newly launched compact SUV called Tata Punch. The car gets 5-star ratings from NCAP, which assures the built quality of the car. Talking about the features so the car gets almost all the mandatory features and also the expected ones in this price range. The features list of this car is also a bit long therefore, below are the major highlights of the car that you should have a look at.
Engine – 1199 cc, 3 Cylinders Inline, 4 Valves/Cylinder, SOHC
Max Power – 84 bhp @ 6000 rpm
Max Torque – 113 Nm @ 3300 rpm
Mileage – 18.9 kmpl
2 Airbags (Driver, Front Passenger)
Price
Well, the Tata Punch gets some other features and specs too that makes it different and loved compared to other in the same budget range. Now, talking about the pricing so the data punch's starting price is Rs 5.93 Lakhs for the Pure MT model which is a base model, and it ends with the top model, Kaziranga Creative iRA Pack AMT which is priced at Rs 9.49 Lakh.
3. Maruti Baleno (₹ 7.33 Lakh)
Well, on the third number we have Maruti's Maruti Baleno considered a premium hatchback of the brand's Nexa chain. The amazing thing about the car is, it is gripping the audience from the very first day. This car gets all the premium features that you will see in Hyundai's I20 and Toyota's Glanza. Launched in 2019, to the current date Maruti Nexa Baleno has been gripping the Indian market smoothly.
Mileage – 22.3 to 30.61 km/kg
Max Power – 88 bhp @ 6000 rpm
Max Torque – 113 Nm @ 4400 rpm
Engine  – 1197 cc, 4 Cylinders Inline, 4 Valves/Cylinder, DOHC
Price
Although, Nexa discontinued the car after an update the brand is all set to launch the machine in the market once again. As you all know that Maruti recently announced the CNG trip of Baleno, so it has created a buzz in the market where people are looking for the specs. Although, everything would be same in the terms of features except for mileage and power. Talking about the pricing of the car so it is priced at ₹ 7.33 Lakh To ₹ 10.88 Lakh. As it would be in the CNG trim. We have shared the information about the Baleno CNG in our previous article that you can read on our website.
4. Hyundai Venue (₹ 7.53 Lakhs)
After talking about Tata and Maruti Suzuki the only company left to talk about is Hyundai, and saying this won't be bad that Tata & Hyundai are giving neck-to-neck competition to each other to become the 2nd most units selling brand. Well, Hyundai's Venue has gripped enough audience in the Indian market, because the car has all the pleasing features, and that too on a quite good budget.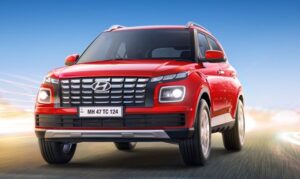 Engine – 1197 cc, 4 Cylinders Inline, 4 Valves/Cylinder, DOHC
Max Power – 82 bhp @ 6000 rpm
Max Torque – 113.8 Nm @ 4000 rpm
Mileage – 17.5 Kmpl
Driving Range – 789 Km
Price
Well, talking about the pricing of this car, the Hyundai Venue is available in 15 different trims which makes it more amazing and captivating enough. The beginning price that you have to pay for the base variant is Rs 7.53 Lakhs for E 1.2 Petrol and ends at 12.72 Lakh with the top trim called SX (O) 1.0 Turbo DCT Dual Tone. If you are looking for safety ratings, so we would like to let you know that the car is yet to go on a crash test.
5. Maruti Brezza (₹ 7.99 Lakhs)
On the 3rd rank of our table, we have again Maruti's car, that is Maruti Brezza. Now, if you are thinking that what makes it special, so, we would like to tell you that Maruti recently announced the CNG trim in this one SUV by the brand. Brezza used to be sold in a diesel variant but in 2020, Maruti introduced this in petrol and recently made headlines after launching it in the CNG model.
Mileage – 19.8 to 19.9 kmpl
Engine – 1462 cc
Max Power – 102 bhp @ 6000 rpm
Max Torque – 136.8 Nm @ 4400 rpm
Driving Range – 965 Km
Price
Now, talking about the main thing that is still missing from the list of this car, Maruti has not tested the safety so far, so it is still missing from the features list. Talking about the price so, the base trim begins with the LXi variant whose starting price is ₹ 7.99 Lakh and it ends up with Zxi Plus AT Dual Tone which is priced at Rs.13.96 Lakhs. If you are of a car lover and keep your eyes locked on the latest updates in the automobile industry then you must be in the swim that amid the competition of bringing e-cars, Maruti is launching factory-fitted CNG kit in its most selling cars. Recently, Maruti Suzuki announced to launch of CNG Brezza soon.
So, above are the top-selling cars in India in 2022. The important thing that you should know is, all of the details given above are about only the base trims of all cars. Also, the details are based on online sources. If you have some more updates that you do not find in the list you can comment down. Stay in the loop for more updates on the automobile industry.