Hey, folks! have you ever wondered to own a bulletproof car or something that looks like a beast on road? Well, here we are talking about the same and you would be happy to know that American automotive designer and manufacturer of high-performance sports cars Rezvani Motors are about to launch a car that you will fly looking at. We are talking about Rezvani Motors's newly launched Vengeance SUV in the global market, the starting price is $249,000 (approximately Rs. 2.05 crore). However, pictures have blown up your mind, and if not, you might not be a car lover. So, be here till the end because here we are talking about the features and much more things about this car.
Almost certainly, the automobile company has been dropping new ideas since the company made the announcement about their new car which is a four-wheeled tank with rugged, bulletproof body panels and a luxurious tech-biased cabin, people are crazily talking about the car. The Rezvani Vengeance is making its debut as an armored SUV. Indeed, the important thing about this one is, it will not only save the occupants from any attack such as bombs and gunshots but can also sprinkle pepper spray too. This kind of segment is always loved by people and you will hardly find someone who can say that they didn't like the model or design because when it comes to talking about its features and design it is something that makes it even more classy and beast on the road.
Vengeance SUV Features
Optional bulletproof windows
6.2-liter, supercharged, V8 engine
682hp of power and 653Nm of peak torque
3.0-liter Duramax diesel motor
Panoramic sunroof
Head-up display
Three-zone climate control,
Multifunctional Steering wheel
However, the car looks like a tank and if we talk about the body design then it is also jaw-dropping. Talking about the design and exterior of the Vengeance SUV by Rezvani Motors so, the Rezvani Vengeance looks too aggressive along with a military-style touch that is referred to as a tank. It has rugged-body panels that help it to flaunt a muscular clamshell hood. Talking about the headlamps then it houses swept-back LED headlights along with a large and strong grille.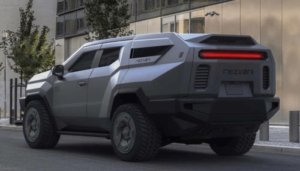 Rezvani Vengeance Interiors
Coming inside the car, there you would see a seven-seater cabin that is luxurious enough to make you feel like a boss. Alongside, a two-tone dashboard and ventilated seats. Coming to the roof so it gets a panoramic sunroof and ambient lightning. However, the front occupant will have the features too for controlling sounds and AC but the amazing thing is, the driver will have complete car control, and that too from the steering.
As far as the dashboard is concerned so the company has installed a digital instrument cluster along with an AR display and a screen touch infotainment panel that supports both apple car play and android auto. The most important thing that company is certainly concerned about is safety, and in the Rezvani Vengeance SUV, you will see multiple airbags to ensure the safety of occupants.
Now, the important part that is popping into everyone's mind is, the Rezvani Vengeance price and how can we buy it. So, the company introduced the car with a starting price of $249,000 (approximately Rs. 2.05 crore). However, the price can raise high as $630,000 (roughly Rs. 5.19 crore). Another thing that is a show stealer is, buyers can make changes in their car online through the website. In easy words, buyers can configure it sitting at home. So, hit the comment box and let us know if you are planning to go for it.