Hello! car lovers, heading towards the day we have scrolled so many automotive news where one stole our looks, and saying this won't be bad that if you are among those who have a big budget to buy a new car then this article is for you. Lexus which comes under the line of luxury sedans, SUVs, coupes, and hatchbacks, recently made an announcement to launch its first-ever electric car called Lexus UX 300e afterward the company is in the headlines. If you have not heard about it then we would love to let you know that the luxury vehicle division of the Japanese automaker Toyota is all set to launch its first-ever electric car and it is going to grab the market, especially those who have a big budget for an electric car.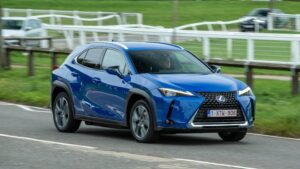 According to the reports, the new Lexus UX 300e will have a big battery to give you a power pack and a long range of driving along with a premium touch in it. As all the automobile manufacturers are shifting to electric vehicles, therefore Lexus also decides to enter the race to make the competition tough. Now, the brand should have to keep an eye on the needs and also the price, though, Lexus's fans must go for this no matter what the price is going to be. Before talking more about the statements and other things let's have a look at the features of the car that you will see in it. So, here are the major specifications of the car that makes it more special than others.
Lexus UX 300e Features
Dynamic Radar Cruise Control.
Pre-Collision System.
Lane Tracing Assist.
Automatic High-Beam.
Adaptive High-Beam System on Takumi pack.
Road Sign Assist.
Undoubtedly, Lexus is going to make this one amazing as compared to others, and as the brand is known for its luxury style so saying this won't be bad that now in the world of Electric cars Lexus stepped in just to show that e-vehicles can be luxurious too. Talking about some of the major features in it then the Next-gen Lexus UX300e will have some of the unheard features for what Lexus is taking money from the buyers. Lexus assured that the new UX300e houses a bigger battery that gives it more power and a better driving range as compared to before.
In this modern era where most car manufacturers or better say almost everyone is shifting to Electric vehicles and it is not only about saving fuel and they are concerned about petrol or other resources on which vehicles run but also because now it has become another competition after giving sunroofs in the cars. Coming back to the topic, the brand has confirmed that the new powerful battery will make the driving range long so that it will go more than 450km, and that too on a single charge. The car will have a powerful torque of 300Nm.
Lexus UX 300e Price
Coming inside the car, so it will have a 12.3-inch touchscreen display. A pair of USB Type -C ports have been installed next to cup holders so that one who is sitting in the car will stay comfortable in finding the charging spot. Talking about the pricing so it has not been announced about the pricing of it and perhaps it can cost somewhere around 20 to 30 lakhs. However, not much information is out so far on this so, we won't make a castle in the air about its features and specifications. So, stay tuned with us to get more updates on automobile news.