Ceat Tyres has launched their new Electric Vechicle tyres that are specially designed for electric buses. The new Ceat Winenergy X3-R tyres are now available in 295/80R22.5 and 255/70R22.5 and deliver 30 percent advanced mileage, 30 percent improved rolling resistance, and 50 percent decline in tyre noise as compared to regular tyres. In the research and development (R&D) process, Ceat Tyres has considered an electric bus's exact requirements and characteristics. For example, an EV bus has an eager torque delivery and is ready with a heavier battery pack. Considering these aspects, the tyres have been considered to offer a smooth, cushioned ride on city roads which are pretty often in a state of disorder.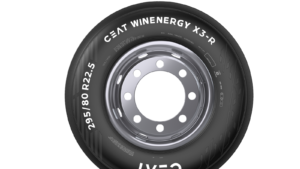 "Indian cities can look ahead to the further deployment of electric buses which provide a sustainable, air and noise pollution-free transit for commuters. With the launch of CEAT's WINENERGY X3-R Electric Vechicle (EV) tyres, we are satisfied to offer tyres specifically designed for our EV OEMs and help make urban transport cost-effective, cleaner, and smoother," said by Arnab Banerjee, COO and CEAT.
The tyre has an all-steel tubeless construction with a robust casing catering to the high torque deliverance. It also has EVST, giving better stiffness and tyre grip, FaF to dampen noise, and BRIC-T to defend against tread buckling. The tyres have a circuit design, more comprehensive contact, and unbreakable sidewalls, improving traction and reducing tyre damage. Furthermore, these EV tyres fit all axle positions.