Since people have been choosing SUVs, hatchbacks have still a strong grip among customers. This is because of its price and also the space on the road. While SUVs owners think they are the boss of the highways, hatchbacks owners show their trips on narrow streets and in traffic too. Well, you must be thinking why we are talking about this, well, it is because Maruti's Alto k10 is returning to the market after a long time. So, let's check what else will be going to be there in the new Alto K10. Here are we talking about the features and price too, so be here till the end.
So, there is no doubt that we have been seeing Maruti Alto for a very long time, or better say since we were born. However, Maruti launched several cars such as Maruti 800 and so on, but somewhere or others, Alto is gripping all Indians somehow and managing its fan base among middle-class families. Maruti discontinued the Alto K10 a couple of years back, despite being in the swim that people are crazy for this the company did this but the brand is again dropping it in the market, with some upgrades and extra features too.
New Alto K10 Features
13-inch steel rims
251 liters Boot Space
7.0-inch touchscreen
Android Auto and Apple CarPlay.
1.0-litre three-cylinder petrol engine
 Max Power 66.6 PS and peak torque of 82 Nm
Now, coming to the additional features of the car so there would be a number of features that we are talking about from the very line of this article. So, Along with big tires, the car gets a bigger cabin as compared to before but the major thing that might affect the looks is, the company has made the body length lesser than the previous one. However, Maruti is decreasing the length of all of its cars whether you talk about swift desire or Santro.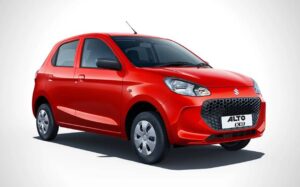 Heading ahead about it, while the bumper is larger than before, you will also see two reverse parking sensors, and the tail lights will look like Maruti's Celerio. Now, the amazing thing that you will see in this model is, the new Alto K10 will have multiple buttons such as volume controller, call pick, and so on, and it will all be available on the steering wheel so that the driver doesn't need to come ahead to change the song, instead he will be controlling it all from his one hand on the steering wheel.
New Alto K10 Price
Coming to the variants so there would be a total of 6 different variants as per your choice and budget. From manual to automatic there would be a choice for transmission. If we talk about the mileage so, the new Alto K10 will give 24.39 to 24.9 kmpl (according to the model). Comes in 6 colors too. A different thing that Maruti should focus on, the company is making all the models convenient as per the customer's choice which is a good thing but the problem is, makers are giving almost the same design to all of Maruti's hatchbacks. From Santro to Celerio, and now, in Alto K10, the design is almost the same. So, this is what the brand should think about.
Despite being a three-cylinder engine it does not feel any shivering or vibrations during the drive and it feels good even at 100kmph. Talking about the price so there won't be a huge difference between the old and new prices. The new Alto K10 has priced between Rs 3.99 lakh and Rs 5.83 lakh (Ex-Showroom). Undoubtedly, saying this won't be bad that the car will be an amazing option for those who love hatchbacks and also have a small budget to own a car.